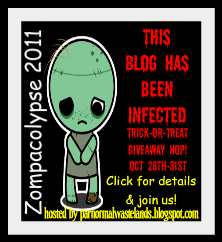 The Zompacolypse is upon us!
My blog has been infected, and while this makes the cute zombie above sad, it makes me wanna do an embarrassing dance. A dance so crazy it might cause some of my rotting limbs to fly off!
So, let's get our zombified freak on with my 1st ever GIVEAWAY!
And if you weren't already flailing around in excitement with me, my blog is also a BONUS STOP on this hop!
Click on the candy bucket picture to enter for an Amazon gift card, and don't forget that there are 14 other bonus stops where you can collect more entries for the card.
PRIZE:
Fill out the form for a chance to win 1 of these 10 spooky books from the Book Depository! There will be 1 winner!
*You may choose a sequel to one of these books to receive instead of the listed book if the sequel has already been released*
RULES:
1. You DO NOT have to be a follower to enter, but I'd love it if you were! You must be 13 or older to enter.
3. Ends midnight Nov. 1st. Winner will be chosen using random.org and announced and contacted by Nov. 2nd.
4. If you win you must respond to my email from brainonbooks[at]gmail[dot]com within 72 hours or I will choose a new winner.
5. I am not responsible for prizes lost or damaged in the mail. It happens to all of us and it sucks but I can't do anything about it :(
VISIT THE REST OF THE GIVEAWAYS!